You're Mean, Lily Jean!
Printable Version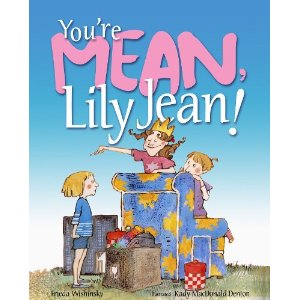 Title: You're Mean, Lily Jean!
Author: Frieda Wishinsky
Recommended for Ages: 4 and up
About: Bullying Behavior
When Lily Jean moves next door to sisters Carly and Sandy, she takes over their play activities, bullies the youngest sister and plays favorites with her older sister. You're Mean Lily Jean! looks at how Carly and Sandy learn to stand up to bullying behavior. They turn the situation around in a way that teaches Lily Jean a lesson about friendship and fair play. The story is written in language that young children can understand, and is just long enough to hold the attention of pre-school age children. You're Mean Lily Jean! is filled with fun pictures. The book's illustrator created easy to see facial expressions on the children that can be used while discussing feelings. This story helps children learn what types of behavior can lead to bullying
and how to avoid becoming a victim. It can also be used by teachers to introduce and explore social skills such as fair play – i.e., sharing, taking turns, including others, etc.
You're Mean Lily Jean! is popular in most of the preschool classrooms that I work with as an early childhood consultant. The children relate to the story, and join in discussions about bullying behavior and how it makes them feel. This awareness helps them develop an understanding of why the rules of fair play are important. It also begins to address important skills such as problem solving, learning how to express emotions, and standing up for oneself or
others.
To support the lessons learned from You're Mean Lily Jean! I often encourage teachers to create their own brief version of this book similar to a scripted story. During circle time the story can be used with the whole group. Here, teachers may introduce this in a role playing activity such as puppet play, later inviting the children to enact the roles in the play. Teachers may coach the children in the play around problem solving and relationship building skills and
use this play for further discussions. It is important for teachers to recognize bullying as a relationship problem requiring solutions that look to improve relationships among the children in the class.
Reviewer: Elizabeth Rhoades MS.
Early Childhood Consultant
Early Childhood Consultation Partnership