Glad Monster, Sad Monster: A Book About Feelings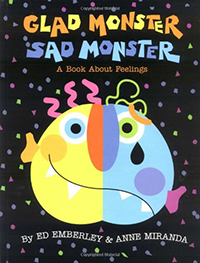 Printable Version »
Authors: Ed Emberley and Anne Miranda
Recommended for Ages: 2-6 years
About: Helping preschool children identify emotions
As an Early Childhood Mental Health Consultant, I use this book with many children in preschool classrooms. I find the content of 32 pages easy for children to understand and relate to. The book walks us through the monster's many feelings. It provides situational experiences for each feeling. For example, the blue monster feels sad when he loses his big blue balloon and the red monster feels angry when someone knocks down his block tower.
The colors are vibrant and the pictures are large. One of the best features of this book is the cut-out masks of each feeling monster. The masks are a great way to get the children involved through interactive play. I recommend laminating the masks to help them last longer with preschoolers.
This book is wonderful to help children recognize and label their everyday emotions in a fun and creative way. The activities are endless when you bring the monsters to life. Some activities that I have implemented to complement this story are: monster matching face game, monster mask parade, and relating monster feeling to incidents (for example, how does the monster that is playing dress up with friends feel?).
Overall, I find Glad Monster, Sad Monster to be a great tool in providing children of preschool age a fun and creative way to explore emotions through literacy and play.
Reviewer: Marci Arroyo, MS
Early Childhood Consultant
Early Childhood Consultation Partnership