Research
Journal of the American Academy of Child & Adolescent Psychiatry, 2016: Early Childhood Mental Health Consultation; Results of a Statewide Random-Controlled Evaluation

In September 2016, a rigorous random controlled trial of ECCP was published in the Journal of the American Academy of Child and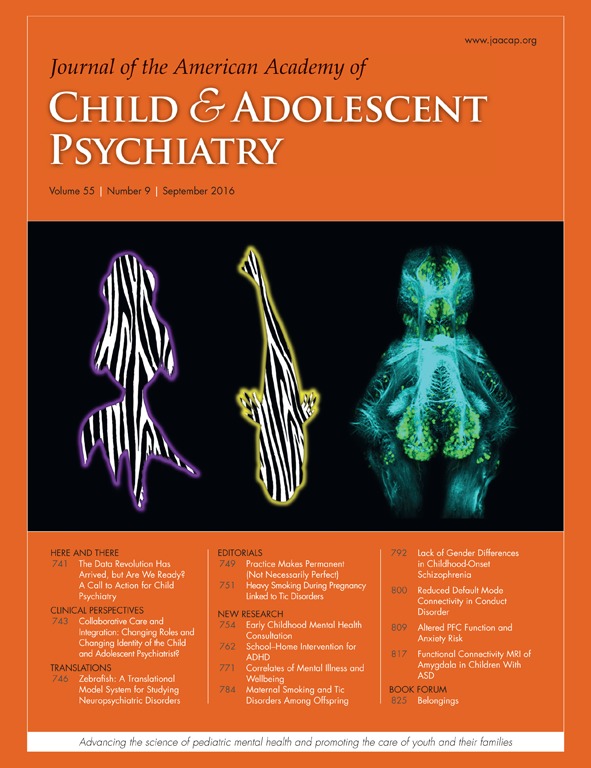 Adolescent Psychiatry. This is one of the first times an Early Childhood Mental Health Consultation program was researched using such a rigorous research method. The design of the study allowed researchers to compare outcomes between children in classrooms that received the ECCP service and children in classrooms that did not receive the service.
The results of this study showed that in classrooms where teachers received ECCP services, children were rated as significantly lower on measures of hyperactivity, restlessness, externalizing behaviors, and problem behaviors when compared to children in classrooms where teachers did not receive the service. As a result, we can confidently draw the conclusion that ECCP services help reduce a variety of challenging behaviors children display in classrooms.
Young children are often suspended and/or expelled from their centers when they display challenging behaviors. It is very important to provide Early Childhood Mental Health Consultation to Early Care and Education (ECE's) centers. The ECCP effectively works with ECE centers, building partnerships and supporting teachers, administrators, and parents in building their capacity to support children's social, emotional, and relational development. As the research has shown, teacher's who receive ECCP services report a decrease in children's challenging behaviors. We can conclude that by partnering with the ECCP, Early Care and Education centers can build their capacities to more effectively support children with challenging behaviors, thereby decreasing the rates at which young children are suspended or expelled from their centers.3
Yale University, 2010: Pre-K Evaluation and Infant Toddler Evaluations
Preliminary results of two additional Random Control evaluations conducted in 2010 are consistent with those found in the 2007 study. These evaluations were conducted on the ECCP® preschool services and on the infant/toddler services. The studies were even more rigorous than the first, including blind raters who provided direct observations of the target children, as well as program impacts upon random peers. While the results of all three evaluations clearly demonstrate ECCP®'s effectiveness, results of ECCP®'s recent Infant Toddler 0-2 Study (Evaluation) is particularly impressive. Results show very strong effects for the ECCP® social intervention on Teacher- Rate
d Externalizing Behaviors, Observed Oppositional Behaviors (Blind Raters), Home School Collaboration, and Random Peers. The evaluation shows an extremely big impact on Disruptive Behaviors (Blind Raters). The Infant Toddler RCT evaluation is significant to building a research base for children birth to three and has implications for informing public policy around the needs of children birth to three, while at the
same time pointing to solid solutions of effective programming.
Georgetown University, 2009: Study of Effective ECMHC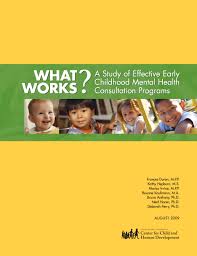 In 2009, the Early Childhood Consultation Partnership (ECCP®) was selected by the Georgetown University Center for Child and Human Development, to participate in a "multi-method study of six ECMHC programs to discover the essential elements of effective early childhood mental health consultation associated with positive outcomes."2
Yale University, 2007: ECCP® Program Evaluation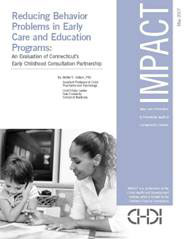 ECCP® is a best practice program that is backed by 3 Random Control Treatment Studies conducted by Walter Gilliam, PhD. Yale University School of Medicine.1 In 2007 the first of the three evaluations was conducted, a rigorous randomized control treatment which compared outcomes for children who were and were not enrolled in classrooms that received ECCP® services, pointing to the program's effectiveness. The evaluation showed that the program reduced classroom behavior problems in children, demonstrating changes such as decreased oppositional behaviors and hyperactivity.1 This was notably one of the first large scale RCT evaluations of its kind for a social service program servicing young children.
---
1 "Reducing Behavior Problems in Early Care and Education Programs: An Evaluation of Connecticut's Early Childhood Consultation Partnership." 2007, Walter Gilliam, PhD.
2 "What Works? A Study of Effective Early Childhood Mental Health Consultation Programs." Duran, Hepburn, Irvine, Kaufman, Anthony, Horen, and Perry. ECCP® is highlighted as one of six ECMHC programs featured in this study by Georgetown University, August 2009.
3 "Gilliam, W.S., Maupin, A.N., and Reyes, C.R. (2016) Early childhood mental health consultation: results of a statewide random-controlled evaluation. Journal of the American Academy of Child & Adolescent Psychiatry." 55 (9), 754–761. http://dx.doi.org/10.1016/j.jaac.2016.06.006

|

|
Share